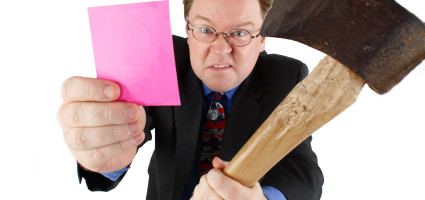 In 2014 Australia's Prime Minister Tony Abbott announced a "hiring freeze" to achieve his objective of cutting "red tape".  We are so used to hearing this sort of announcement that it seems even journalists do not question the thinking behind it.
The government go-to position of a "staffing freeze" is a very simple strategy of not replacing people as they leave, either through resignation, retirement or when their contracts expire.  There is no consideration given for how critical the work being done is; it is just a blanket assumption that no matter what a person is employed to do, when they leave, someone else can absorb it.  Or perhaps it just doesn't get done anymore.
We also hear very frequently, large companies announcing to the stock market that they are "cutting jobs" to "save money".  The initial reaction is that the price of the stock increases.  So in the short term, at least, it would seem there is money to made in cutting or freezing staff.
So, given that this way of Cutting Costs is so visible, and so frequently announced by Leaders of Government and Business, should we pause for a moment and question the logic behind it?
Cutting and Freezing staff numbers is management by numbers only.  If we really want to understand the negative effect these quick decisions have on a workplace, it is not hard to find the research.  There is plenty of evidence out there which demonstrates that simply cutting numbers – has no positive financial impact on the workplace – and worse, it is actually financially damaging.  Yes, it actually costs your business more than it saves you.  These costs will not appear in your Salaries and Wages costs though.  If that is all you measure, you will never measure the true cost (either positive or negative) of these decisions.
Simply making arbitrary cuts to staff numbers will not, in and of itself, achieve anything except an enormous disruption to the workplace, and the lives of the people who find themselves unexpectedly on the job market.  There is certainly no reason at all why simply cutting staff will reduce "red tape" or improve productivity.  There is no connection at all between the action and the outcomes proposed.
Unless thorough planning is put into how these decisions are made, announced, and carried out, an organisation can feel the negative reverberations of these actions years into the future.
Simply cutting staff numbers and expecting those that are left behind to absorb their work will not be effective.  The people left behind may already be working at full capacity, or greater than full capacity, and this decision may lead them to disengage and actually become less productive than before.
An organisation also loses "loyalty" points every time a decision like this is made, when it does not make any sense to the people left behind.  People who may have previously intended to stay with you and have always worked very hard for you, may start to question their loyalty to you.  Your best and brightest very often choose to leave.
If an organisations wants to understand how they can make cuts to costs, without damaging their workplace in the process, the starting point is to conduct an objective review of the work that is being done, how it is being done, and analyse where efficiencies might be created (and this may involve non-people resources too).  That way, when the decisions are made to cut roles and processes, you already know how the work will be better managed into the future (rather than just assuming it will just be done).
But planning alone will not be enough.  It is after the decisions are made that the really hard part comes.
And nothing will send a clearer, stronger message to the staff  left behind, than the way the departing staff are treated during this time.
Plans need to be made about how these decisions are communicated, and how those effected (those going and those staying) can be supported.  This is some of the hardest and personally challenging work any manager will ever be called on to do.  This is not something that can be decided in the space of one crisis meeting (or just before a press conference).
If you find yourself in the position of being part of the decision making team, get the help you need to make good decisions, and the advice you need to help you and your team manage through the changes required up to and well beyond the announcement.
Ask the right questions; get the right help.  Handled well, changes can improve the workplace.  Handled badly; you can guarantee they will cost you a great deal more than you will ever save in short term payroll costs.